How to Make Money by Screen Printing Wholesale Apparel
If you are looking for a great way to make money, launching your own screen-printing business could be a great solution. Whether you are trying to find a lucrative side hustle or you're tired of the 9-5 grind and want to run your own business, screen printing is a scalable business that many people find rewarding. It's relatively easy to get started, and you don't need any special knowledge or skills. Keep reading to discover how to make money by screen printing wholesale apparel.

Invest in the Right Apparel
Before you can start creating custom clothing items, you need to invest in blank apparel. You could go to the store and buy plain t-shirts or hoodies but doing so is going to cost you a lot of money. Instead, it makes much more sense to buy in bulk. Wholesalers–like The Adair Group–offer great deals on large quantities on clothing, making it possible for you to buy low and sell high.
Keep in mind that some fabrics are better for screen printing than others. Cotton is the best of the best, especially when printing using water-based inks. Cotton t-shirts are also extremely comfortable and a favorite among consumers. Cotton/poly blend shirts work well for screen printing, too, and offer all the benefits of both fabrics to create garments that are comfortable, long-lasting and wrinkle-resistant.
Start Simple
Starting a screen-printing business doesn't require much. For less than $500, you can get a simple tabletop press, a few inks, a squeegee and some shirts and screens. There are plenty of places that will burn screens for you, which will save you money compared to making them yourself. You can always invest in more equipment as your business grows and you start bringing in more revenue.
We recommend starting out with only black or white ink to begin with and offering single-color printing services. Buying multiple colors of ink costs more money, of course, and learning how to make full-color designs is more difficult than using a single color. Again, you can always invest in more colors and work on learning new techniques as your business grows.
Obtain the Necessary Licenses and Permits
When you are starting any business, you need to make sure you are doing so legally. Depending on where you live and where you plan to sell your products, you may be required to obtain several business licenses and permits. In general, you should form your business type and file it with the office of the Secretary of State where you live. Next, apply for a business license for your city and then apply for an Employer Identification Number (EIN). You may need an EIN even if you don't need employees, especially when sourcing wholesale supplies. Apply for a reseller's permit, too.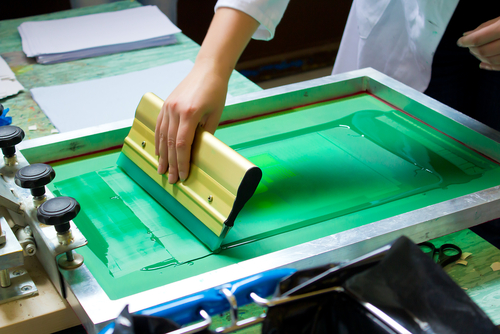 Do some research to find out whether there are any additional requirements. You may need special permits or licenses to use certain types of equipment or chemicals. If you are having trouble determining the regulations in your area, it never hurts to consult with a business attorney or set up a meeting with someone at your local branch of the Small Business Administration.
Track Your Expenses
Keep detailed records of every cent you spend on your business. You need to know exactly how much you are spending on equipment, tools, ink, shirts, etc. in order to come up with a budget and set your prices. You should also keep track of the cost of licenses and permits and any expenses you incur when seeking professional help with launching your business. If you want to make money with your screen-printing business, it is crucial to keep track of how much you are spending.
Figure out exactly how much each item costs you to produce and use that number to set a price. Don't forget to pay yourself a reasonable wage for your time. There are a lot of difficult pricing formulas. One of the simplest and most popular options, though, is multiplying the amount it costs to make each item by three.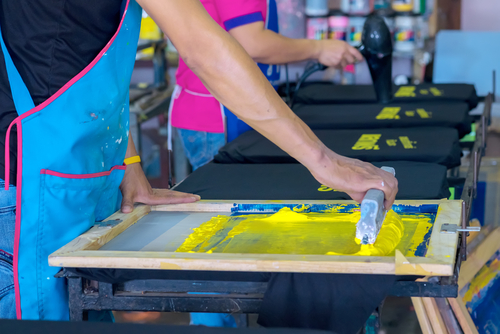 In Conclusion
Starting your own screen-printing business is much easier than many people realize. Screen printing wholesale apparel is a great way to earn some extra money, and when you use bulk shirts from The Adair Group, maximizing your profits is a piece of cake! Browse our selection of top-brand bulk shirts today and find the perfect fit for your new business endeavor.