Tie Dye T-Shirts
We offer a huge selection of tie dye t-shirts at low prices. Our customers purchase tie dye for a variety of uses including birthday parties, office team building events, fundraisers, sports teams, church groups, individual use, and more. We have many designs and colors to choose from. Shop our wide selection of tie dye t-shirts today.
See Our Tie Dye T-Shirts In Action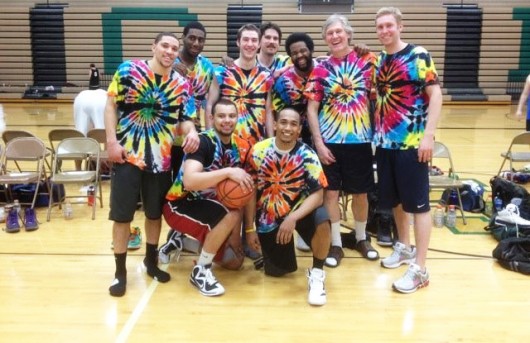 A Tie Dyed Basketball Team!
A basketball league team decided it would be fun to use our
Black Rainbow Tie Dye T-Shirt
design as their team uniform. Here is what the team captain had to say. "No trophy but we had the best uniforms. The shirts survived 7 games but short of the championship." Thanks for sharing with us guys. We agree, your uniforms had to be the grooviest out there! We're pretty sure you were in a league of your own!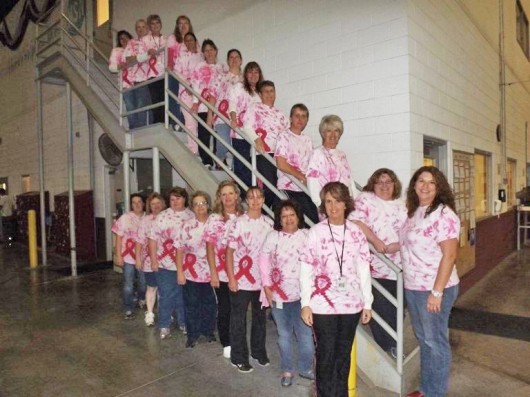 Tie Dye Tees for a Cure!
Great people wearing great shirts for a great cause! Here is Fran S. and friends looking good in our
Pink Ribbon Tie Dye T-Shirt
in support of Breast Cancer Awareness Month. What better way is there for a group of people to show solidarity than with these tie dye t-shirts. Thanks for the pic, ladies!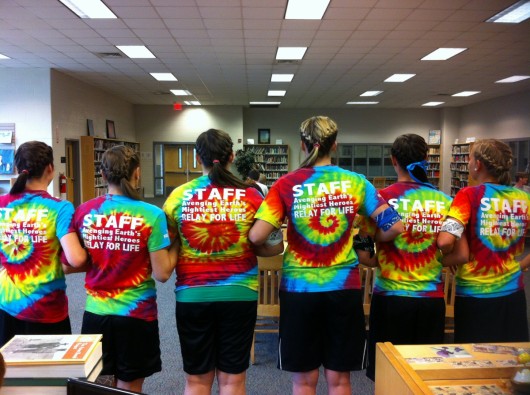 Students Rocking Tie Dye T-Shirts!
A teacher sent us this picture of her students wearing our
Classic Rainbow Tie Dye T-Shirts
. Here is what the teacher had to say. "My students made Relay For Life shirts. They also won for most funds raised by a school in county. Your excellent prices allowed for more of the money to go to the fundraising! We are very proud. Go Wildcats!"
Tie Dye T-Shirts as a Giveaway Item!
Checkout the Brazoswood HS Choir using our
Neon Rainbow Tie Dye T-Shirts
as giveaways for their annual banquet. The theme of the banquet was "Blast from the Past." The tie dye tees were used for decoration and then given to the guests as a take home gift. According to a faculty member, the shirts were a huge hit because of the 200 given away at the event, probably half of the shirts were being worn at school the next day!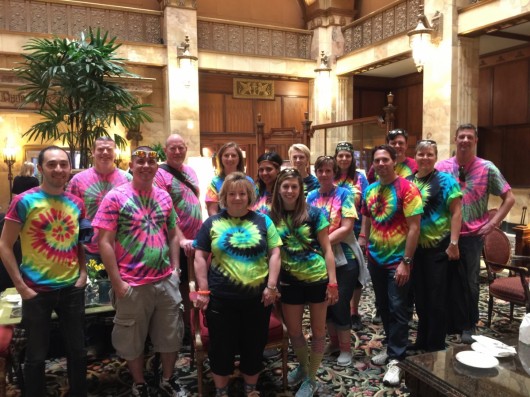 Tie Dye for a Team Building Event!
Travelers Insurance Company used our Tie Dye T-Shirts for a team building event in beautiful Denver, Colorado. They did an Amazing Race through the city and ended up at the Brown Palace Hotel where this photo was taken. Very clever idea and everyone looks great in the shirts!