Five Cities You Will Need a Sweatshirt While Visiting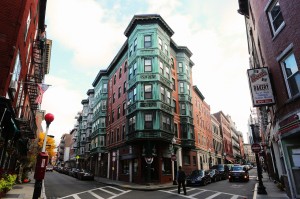 When packing your suitcase for trips, you generally try to stay away from bulky pieces. The trick is to roll everything up as tightly and neatly as possible so you are able to stuff in as many outfit pieces as possible. This works easier in the summer months when most clothing items you need will be light and thin.
However, summer is coming to an end and, if you plan on taking a trip soon, you may have a hard time figuring out what to pack. After all, the fall season is one of the harder times to pack a suitcase. Some days are hotter than they are colder, while others are chilly rather than hot. Of course you also have the days that are perfectly in the middle.
For temperatures like these, you often have to work with layers, which can become a hassle when packing. Again, this will also depend on which city you are visiting, and its average weather conditions.
We like to be as prepared as possible, especially when traveling. Below is a compiled list of 5 cities where you will need a sweatshirt while visiting:
1.     Boston, Massachusetts  
When visiting Massachusetts' capital city, a jacket will come in handy when sightseeing in one of the nation's oldest cities. Take a walking tour of the historic 2.5-mile route called the Freedom Trail. You will need a sweatshirt to combat the breeze felt when learning the key role Boston played in our nation's founding.
During the fall season, Boston's average temperature includes a span from 38 to 73 degrees Fahrenheit, depending on the month. The wind can also add to the chill in the air, as will excursions on or around the harbor. You will be glad to feel warm and toasty in your favorite hoodie as you take in the views of  some of the best autumn foliage Mother Nature has to offer.
2.     Minneapolis, Minnesota  
Also known as the larger of the Twin Cities (St. Paul being the other), Minneapolis has some of the coldest winter temperatures in the country. During the month of September, temperatures are rapidly dropping, with highs starting in the eighties, stooping to the sixties and below throughout the month, especially at night.
When exploring downtown by walking, biking, or Segway, you will be thankful for the sweatshirt, and you might also want to bring along hats and scarves for safe measure.
3.     Chicago, Illinois
Deemed the Windy City, is it any surprise that you'll need a jacket or two when visiting this large community? Tour the extensive art museums, Navy Pier, and the Willis Tower.
Prepare for a breezy autumn season, as Chicago's average fall temperatures range from 75 – 54 degrees Fahrenheit in September, 62 – 43 in October, and 48 – 32 in November, so be sure to pack accordingly, depending on what month you plan to visit.
4.     Seattle, Washington
Located on the Puget Sound in the Pacific Northwest, The Emerald City is surrounded by water, mountains, and forests. It is an interesting city to visit, as it illustrates where urban sprawl meets nature.
The tech industry thrives here, and you'll need that sweatshirt when visiting the Space Needle and the Pike Place Market. This city is known to get some rain, although the fall is one of their least rainy seasons, but be sure to pack those hoodies to warm you from the water-front chill.
5.     Portland, Maine
The largest city in Maine offers fun tours of breweries, art museums, and one-of-a-kind seafood from Casco Bay. Walk around Old Port and immerse yourself in unbelievable scenery and fall foliage.
This northeastern city has autumn high temperatures ranging from the low 70s to high 40s degrees Fahrenheit, so packing a sweatshirt, along with hats and gloves, will make your trip go smoothly.
So, don't forget to pack a sweatshirt, jacket, or hoodie in your suitcase this holiday season! Don't make your trip miserable by confusing our mild Georgia weather with other parts of the country.
And remember, The Adair Group has all your affordable wholesale sweatshirt needs. Make sure the whole family stays warm when traveling around, or for the holidays. With comfy pieces from top brands like Gildan, Dodger, and Hanes, you are guaranteed quality sweatshirts when purchasing from us!