Embroidery Inspiration: Hand Embroidered Garments
Think embroidering is just a hobby for grandmas? Think again! Hand embroidery is back in a big way, and it is the perfect way to turn ordinary clothing into custom works of art. Whether you are adding intricate details to a wedding dress or giving a plain t-shirt a pop of pizazz, embroidery is a handicraft that can transform any garment. Don't believe us? Keep scrolling to discover some awesome embroidery!
What Is Hand Embroidery?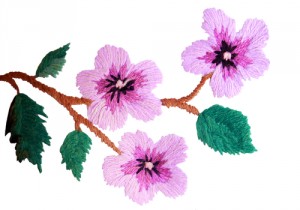 The art of hand embroidery has been around for centuries. In fact, there is evidence of it in the textile art from every ancient culture. While mending clothing was the original primary purpose, it has become a creative endeavor that has been practiced consistently for generations. In recent years, it has seen a resurgence in popularity in the fashion industry with everything from jeans and t-shirts to jackets and formalwear being adorned with hand-embroidered designs.
Hand embroidery is simple to learn and requires just a few basic supplies–an embroidery hoop, thread, a needle, scissors and fabric. The term encompasses any type of needlework that is performed without a machine, making it possible to create a wide range of designs. Anything imaginable can be embroidered onto fabric and, with practice, it's possible to learn how to stitch elaborate designs that are works of art in and of themselves.
How Hand Embroidery Transforms Ordinary Outfits
Hand embroidery can transform any piece of clothing from ordinary to extraordinary. Adding a few delicate flowers to the neckline of a blank t-shirt instantly creates a more feminine look and feel. Stitch elaborate designs on the back pockets of your favorite jeans to give them an instant upgrade or embroider bunnies or duckies on a onesie for a one-of-a-kind baby gift that any new mother is sure to appreciate. The great thing about embroidery is that it can be used to elevate even the simplest pieces to works of art.
Embroidery Inspiration
Whether you've been embroidering for a while in the form of creating cross-stitch hangings to decorate your home or you've just picked up the craft, knowing what to make isn't always easy. While old-fashioned designs may be the first thoughts that come to mind, they aren't your only option.
T-Shirt Embroidery
T-shirt embroidery is a great project for beginners because tees are widely available and extremely affordable. Try adding a geometric design to the neckline and straps of a tank top. Using bold colors on a background creates an eye-catching look that is perfect for summer festivals, concerts or even just an evening relaxing in the backyard with friends. Be warned, though: You'll probably have plenty of friends and family members asking you to do t-shirt embroidery for them, too!
Giving Old Denim a Facelift
Have an old denim jacket that you haven't worn since high school? Or maybe you have an old pair of jeans that you wear daily that is in desperate need of a facelift? How about that denim skirt that's buried in the back of your closet? Chances are, you have at least one piece of denim clothing that could be given a whole new life with embroidery.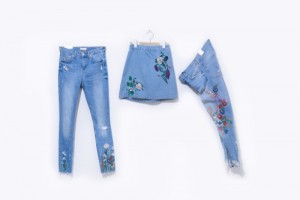 Why pay a fortune for jeans with embroidered pockets at the mall when you have a perfectly good pair in your dresser that you can decorate yourself? If your favorite jeans have a hole in the knee and you are not into the whole distressed denim life, using your embroidery skills to patch them up is a perfect solution.
Stitching some designs on a plain denim jacket is a great project, too. Since jean jackets generally aren't stretchy, they provide a canvas that is easy for beginners to work with. Find a pattern that you love and transfer it onto your jacket or stitch a design from your own mind. Your imagination is the only limit and, no matter what you do, you will end up with a truly one-of-a-kind custom garment.
In Conclusion
Whether you want to breathe new life into your old wardrobe, create a brand-new style that's uniquely you or design one-of-a-kind gifts that are fit for even the pickiest recipient, you can't go wrong with hand embroidery. The craft may be centuries old, but it is taking the modern fashion world by storm. Try it out for yourself!