The 25 Coolest Band T-Shirts Ever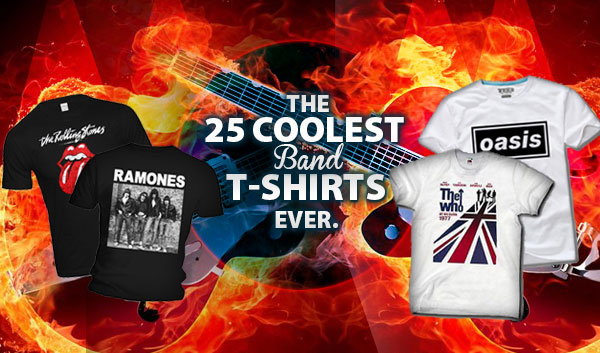 The style of music that a band plays ultimately becomes part of their image and persona. Their style reflects the image they want to project to the public, not only through their music but also their attire and the merchandise they sell.
Iconic band t-shirts used to be worn only by metalheads who were always loyal to their rocker heroes, but, in the past few years, rock t-shirts have become cool.
For now, band t-shirts are back and are likely to remain a staple for those teenagers trying to look cool or for the adults broadcasting their musical taste. Dedicated fans who eat, sleep, and breathe these bands wear band t-shirts. It is a way to display your taste in music in a fashionable way.
So, whether you like to dress in basic t-shirts or rock your favorite band t-shirt, you can find anything that fits your style.


Inspiral Carpets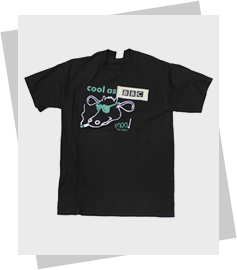 This t-shirt was named after their 1990 EP and featured an image of an extremely relaxed cow. The strange shirt couples nicely with the band's odd sound that comes from their use of organs and distorted guitars. The design reflects one of the band member's, Clint Boon's, obsession with cows. There are many different designs of this shirt, but the one that features the cow wearing the shades is the most classic. In fact, the shirt gained some of its success when a student at Oxford Polytechnic was prosecuted on obscenity charges for wearing it. The Madchester movement band was reported to have sold more of these t-shirts than all of their albums combined.

Mogwai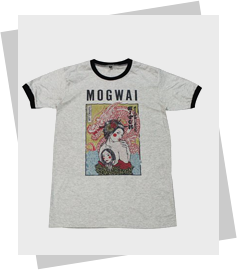 The Britpop survivors in 1999 were challenged by the underground Scottish legends with this provocative t-shirt design. One of the bandmates, Stuart Braithwaite, defended it by saying "We decided to proclaim our dislike for one of the weakest bands…by putting out these shirts…The thing about the shirt is it's like a dictionary definition…It's factual and if there's any legal problems about it I'll go to court as someone who has studied music."

daniel Johnston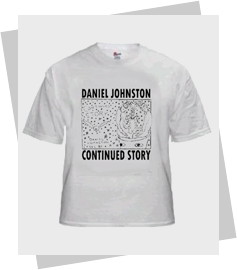 Kurt Cobain, the frontman of the popular band Nirvana, made this t-shirt famous. He was a huge fan of the artist and wore the shirt on many occasions during the promotion for their 1991 album Nevermind. At the same time as this, Johnston painted a mural of the frog at a record store in Austin, Texas. Even after the record store closed, people convinced the managers who wanted to remove the mural to keep it. All of this led to increased interest in Johnston's work, which has been shown in galleries all over the world, including in the Aquarium Gallery in London and New York's Clementine Gallery.

Ramones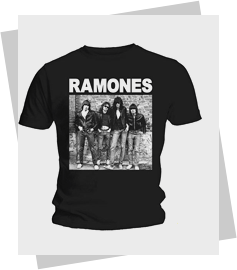 This is one of the most iconic band t-shirts, and it can be argued that the shirt is almost more famous than their music. Many of the hipsters all over the world, ranging from Fergie to Harry Styles, wear it. A New York Artist Arturo Vega designed it in the 1970s. The shirt, in its time, has become an all-time classic and reflects The Ramones as the archetypal American band.

Nirvana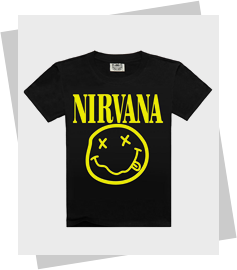 Every teen who grew up in the 90s could be expected to own one of these t-shirts. It was allegedly created by Kurt during the Nevermindsessions, and took the acid house emblem of the smiley face and completely reworked it. No one knows how it came to represent the contenders being Axl Rose and Eddie Vedder. It was completed with a reverse of a "flower sniffin kitty pettin baby kissin corporate rock whore." These are still a massive sell in the Camden market.

Smashing Pumpkins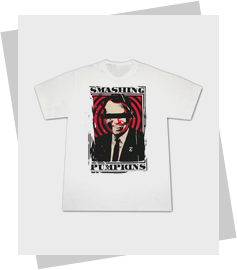 Pumpkins' frontman Billy Corgan wore the t-shirt many times during their tour in 1996 in support of Mellon Collie and the Infinite Sadness. The album debuted at number one on the Billboard album chart, which helped build their popularity and helped the t-shirt to be an iconic one. The band eventually bought the rights to the shirt from a skate company and, since then,it has remained a rock classic.

CBGBs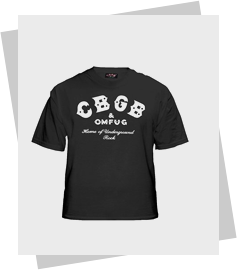 Even though this one is not technically a band t-shirt, many iconic bands have passed through and brought their own version of this. CBGB was a New York City music club that was opened in Manhattan's East Village. The letters stood for country, bluegrass, and blues. It soon became a famed venue of punk and the new wave of modern bands. A New York Punk institution that many popular bands played in lives on through this design.

Joy Division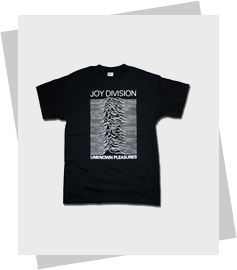 Based on one of the most iconic records of all times, this t-shirt became one of the most popular band shirts. It was initially drawn with black lines on a white background, instead of the black background and white lines that ended up as the design. Stephen Morris, who was a drummer, selected the image. He saw it in a Cambridge Encyclopedia of Astronomy, depicting the radio waves from pulsar CP 1919 when the pulsar was first discovered.

Wham!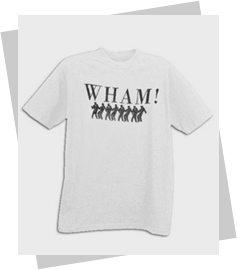 Katharine Hamnett designed this t-shirt that came to fame when it was worn by George and Andrew in the video Wake Me Up Before You Go Go. This specific slogan was directed at drug abuse and suicide. Currently, it is being used to encourage the pro-life movement against abortion.Hamnett graduated from Saint Martin's School of Art and founded her own clothing line in 1979. Roger Taylor, Queen's drummer in the video for Hammer To Fall, also famously wore the English fashion designer's t-shirt. Taylor was also seen wearing another one of her shirts at a festival in Rio de Janeiro.

Frankie Goes to Hollywood
Paul Morley, a journalist and one of the founders of ZZT (Frankie's record label) designed a conscious rip-off of Hamnett's "Choose Life" t-shirt design. He justified this by saying that Hamnett wanted her t-shirts ripped off. The shirts were used to promote the record label's chart act Frankie Goes to Hollywood. To avoid any doubt, the shirt has "Say," not "Says," because Frankie refers to the band as a whole, not a single person. The shirt was also fought over by Ross and Rachel during a break-up on an episode of the popular sitcom, Friends.

AC/DC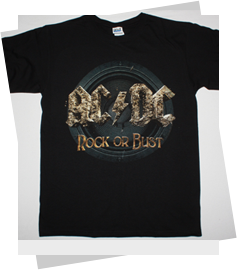 Going down in history as one of the greatest logos of all-time, it is no surprise that it was used for a t-shirt. It quickly became a perfect fit for a t-shirt, and now many variants of it exist. Of them all, the original is the simplest.

Run-D.M.C.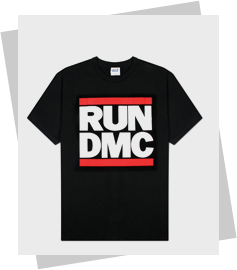 Following AC/DC, this is another example of a truly iconic logo that was used on a t-shirt. The band was one of the most influential acts in the history of hip-hop culture. It is no wonder their t-shirt is clean, simple, and effortlessly cool. Since the band was just as influential and iconic as their t-shirt, it will be worn for as long as hip hop continues to be relevant.

Rolling Stones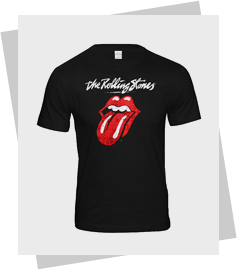 This iconic t-shirt was inspired Mick Jagger's own lips and mouth. An art designer, John Pasche, created it. He designed the famous logo for the Stones in 1971. It originally appeared on the album, Sticky Fingers. Since then, it has been voted to be the greatest band logo of all-time, becoming an enduring t-shirt classic.

Stiff Records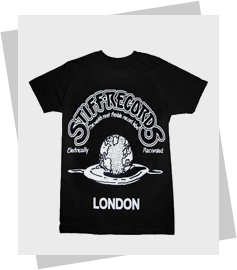 This t-shirt originates from a legendary independent record label based in London, England that ran from 1976 to 1985. The label was established at the outset of the punk rock boom and signed various punk acts. It boasted many series of slogans that were considered to be provocative and witty. The label became known as "The World's Most Flexible Record Label." Because of this fact, the slogans soon became very famous.

Led Zeppelin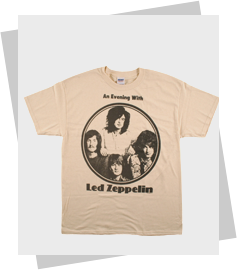 The final concert tour of North America by the legendary rock and roll band, Led Zeppelin, was at the highest point of their success. The band started to wear elaborate and flamboyant clothing that changed their previous image. This t-shirt represents the crazy amount of achievement and change that they experienced at this time.
Guns N' Roses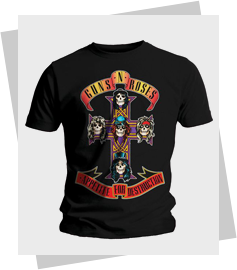 The class t-shirt by the band Guns N' Roses was never featured on the front of an album until their Greatest Hits release in 2004. The band returned from a hiatus at the time of this release. One of their members, Buckethead, left the band because they were unable to complete an album or tour. This Greatest Hits album was released after no new studio album in more than ten years. It experienced considerable success, becoming the third longest-charting album of the era.

The Who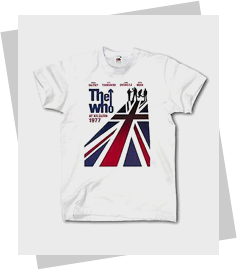 If you consider yourself a mod, this t-shirt is a necessity. The logo and the iconic target sign work together in perfect harmony. The Who wore RAF roundels (and Union Flags) as part of their stage apparel when their career started to take off. The most iconic part of the t-shirt is the design where the long arrow shoots upward off the O in Who.

Oasis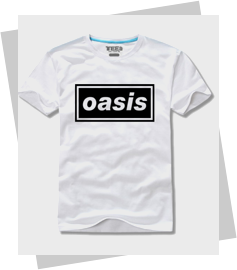 The classic Brain Cannon-design logo on a blue background became hugely popular in 1994. It was amidst the Definitely Maybe era; Oasis owned the movement with this t-shirt. Their success began when they showed up at a club they were supposed to be playing at, but were refused entry because they were not on the set list. Somehow, with contradicting statements about what happened that night, they were given the opening slot, and they were offered a recording contract immediately.

Stone Roses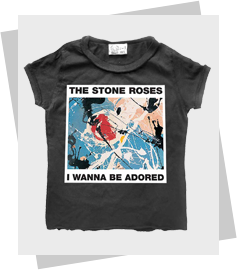 Featured in the videos for Fools Gold and I Wanna Be Adored,this t-shirt became one of the most popular shirts of its generation. It was important they had this shirt to help promote their fame, because they often displayed little interest in promoting themselves. The band would deal with the press in an odd way, sometimes even answering questions with complete silence. Nevertheless, people loved the band and this shirt, and an adoring fan could buy the t-shirt and pretend to be the stars in the video.

KISS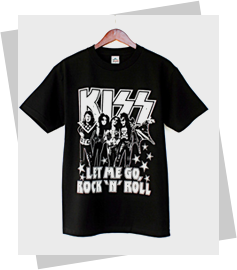 Any self-respecting rock fan needs to have one of these t-shirts. KISS became masters of merchandise, and this is another one of the incredibly iconic t-shirts of rock and roll.
The Smiths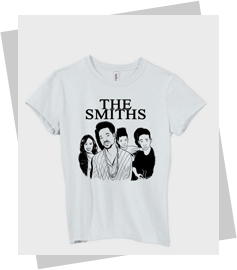 This shirt features the cover design based off the 1964 film L'Insoumis, starring Alain Delon and created by Morrissey. This album was arguably their most popular album ever. It translated flawlessly to a t-shirt to show the love you had for The Smiths.

Aerosmith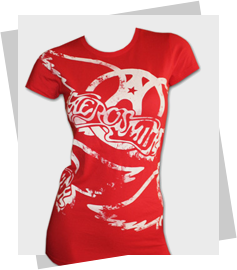 It is no question that Aerosmith is one of the greatest rock bands ever. The former guitarist and friend Ray Tabano had the idea of printing simple t-shirts with the wings logo. A mere 100 were printed and sold out in minutes at a concert. The t-shirt soon became one of the primary sources of revenue for the band. The t-shirt was given iconic status when it was worn by Garth in Wayne's World. This t-shirt emulates a party or a good time.

Bob Marley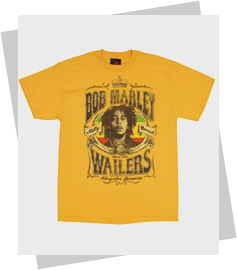 Bob Marley's image is one of the most iconic pictures of all time. If his head is put on a t-shirt, it becomes a perfect image of reggae vibes, peace, and love. It is only fitting, since Marley received The United Nations Peace Medal of the Third World in 1978. Since then, he has continued to inspire and influence music, fashion, politics, and culture all around the world.

Black Flag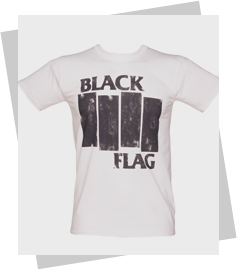 One of the classic punk t-shirts of all time, this one becomes even more legendary as years pass. Their sound had a raw, pure sound to it that voiced an anti-authoritarian and non-conformist message. Not only that, but it has also been parodied with many different versions. This becomes a way to honor the band, since they promoted an autonomous and a do-it-yourself attitude. Some of the versions feature Justin Bieber and Lady Gaga.

Sonic Youth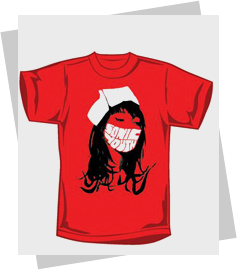 The cover of Sonic Youth's 1990 album Goo featured a Raymond Pettibon illustration based on a photo of Maureen Hindley and David Smith. They were key witnesses in the trials of Moors Murderers Ian Brady and Myra Hindley that took place in 1966.