4 Fun T-Shirt Projects for Summer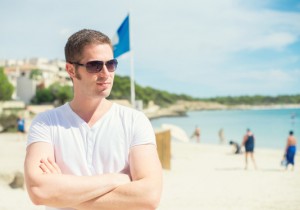 Summer is coming up and you'll need to have the answer to every kid's perpetual complaint: I'm bored. They're so used to having every minute of their day planned out, that it's hard to adjust to a more relaxed summer schedule. Solve two problems at once – they don't want to be bored, and they want to spend time with you – with a ready stream of interesting and fun things to do together.
T-shirt projects can be one of many summer activities that you and your child can share. You can buy a stack of wholesale t-shirts for as little as a dollar each to have handy for your projects. Make each craft a little different for added variety. Here are a few cool sample projects to get you started.
Father's Day T-Shirt for Dad
Kids love the excitement of giving gifts almost as much as they like the fun of making them. This cool t-shirt project can double as an artistic project and a Father's Day gift. You'll need a few things from around the house, like a computer copier, scissors, and an iron. You also need a men's size t-shirt for Dad.
In this instance, since it's a gift, you'll want to get a quality men's shirt that's still inexpensive. You'll also need fabric transfer paper that you can get from nearly any crafty store. The fabric transfer paper specifies if it's either for light or dark shirts, so take note before you buy a packet of transfer paper. The only other thing you need is a product of your child's artistic genius; think about the color contrasts to make sure the drawing stands out on the t-shirt. Get the full instructions with photos at No Time for Flashcards.
Father's Day Onesie for Baby
If you're a crafty mom in need of a Father's Day project, but your little one is still in diapers and not quite ready for the scissors and crayons, never fear. With this creative Father's Day project, you'll need onesies, baby t-shirts, or toddler t-shirts that you can get for $1, or slightly more. (Having a pile of these around will tempt you into all kinds of ideas!)
You're going to cut out material in the shape of a tie and sew it onto the front of baby's onesie. Voila! The project, shared on Hello Glow, is done with a sewing machine. If you happen to have one of those sitting around, then here are the instructions for the Father's Day onesie. Another approach may be to use iron-on material or use one of Dad's old ties and Wonder Under to attach the tie without sewing. You could also, of course, painstakingly hand stitch it.
Superhero Cape
This is an awesome project for the little superhero in your home. You'll need an adult size t-shirt for this one. (Remember the stack of bargain t-shirts you got at the beginning of the summer?) You'll also need a pencil, ruler, fabric scissors, freezer paper, craft knife with cutting mat, and a warm iron. This is so you can make the superhero emblem for the cape, too.
You could, alternatively, use the drawing and transfer paper method described in the Father's Day project, if your mini-hero wants to create his or her own superhero emblem. Get the complete directions on making this fun cape at Generation T, where you'll find all kinds of creative ideas for your summer t-shirt projects. Extend the idea to a few of the same superhero capes, so it isn't missing on laundry day, or let your little one be a different caped crusader every day with a new superhero persona. And have no fear, if you accidentally shrink these creative masterpieces in the wash, you can easily unshrink them, keeping your Superhero ready for action.
Recycled T-Shirt Tote Bag
For older kids, this project is both useful and a fun project to do with friends. One suggestion was to use last year's team t-shirts. Otherwise, you can recycle any t-shirt that has a logo, picture, or saying that you like. You can also use inexpensive wholesale irregular t-shirts and have each child personalize his or hers. Use them for library books, gym clothes, beach supplies, and more, because they're surprisingly sturdy.
Get directions from Instructables if you have a sewing machine. If not, use the no-sew method from Mommypotamus.
There are a ton of t-shirt project ideas on Artists Helping Children. Try several of these over the course of the summer and be the go-to house where all the kids in the neighborhood hang out. They can make carrot mosaics, eyeball t-shirts, flower power tank tops, "my summer vacation" t-shirts, and dozens more. Teach kids to batik, tie dye, and marble tie t-shirts. These t-shirt ideas are fun and clever, and kids will love keeping their own creations.